Hardscape Services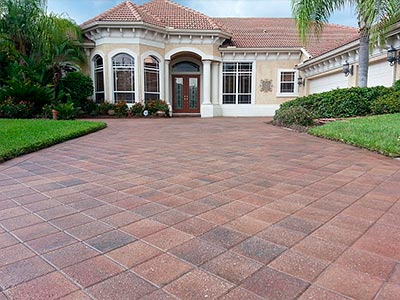 The beauty and longevity of your outdoor spaces depend on the materials and installation quality of various features. Proper planning is crucial, as is the layout and ease of maintenance. While there are many superior products on the market today, you need to make sure that the installation is handled skillfully and to industry standards.

With this in view, you need expert and experienced operators like those at our company for the job. No matter your hardscaping requirements, we at CLP Property Management provide customized residential & commercial hardscaping services. We are a licensed & insured company with over 15 years of experience in the industry.

As a family-owned and operated company, we know that personalization is crucial to ensure client satisfaction. With us, you get customized solutions and personal attention at every stage of the project, and these are some of the things that set up apart from other operators in the industry. The range of services we offer includes:


Pool Decks
We offer high-quality pool deck installation services to commercial and residential clients. Our team will work with you to determine your preferences and provide the right kind of paver pool deck installation. There are a variety of pool decking products that you can choose from, and we will give you all the information you need about what these are. Our team of paver installers is highly skilled, well-trained, and experienced. They follow the approved design to the tee and make sure that the installation is completed in line with industry standards. With us, you can be sure that you will get the high-quality solutions that you expect. The added benefit is that our services are also very affordable and provide an excellent return on investment. Read More About Pool Decks »


Driveways
When you are getting a new driveway installation, you need to make sure that the right products are used. We recommend the use of paving stones for driveways. You can choose from interlocking pavers of different colors, shapes, sizes, and styling. Our team will provide you details about the various paving products available and will handle the installation correctly. We can also seal coat the paved surfaces after a few weeks to improve their resilience and longevity. Over the years, we have handled projects for residential and commercial clients. We offer customized solutions, and you will get cost-effective and unique paver driveways that will last long and uplift the curb appeal of your property. Read More About Driveways »


Patios
One of the best ways to transform your yard's appearance is to get a patio installed. This outdoor feature extends the interior spaces while allowing you to use the outdoor areas optimally. Whether you want something considerably basic or elaborate, we can provide you with a range of options. We recommend using paver stones for patios; they are resilient, durable, long-lasting, and easy-to-maintain. You can choose from pavers of different shapes and sizes, patterns, and designs. Our paver installers will handle the installation correctly, so you have a stable and attractive paver patio on your property. When we handle this job for you, we focus on aspects such as functionality, durability, aesthetics, and value. Read More About Patios »


Walkways/Entryways
Creating the perfect walkway or entryway involves using superior-quality materials because these areas see considerable foot traffic. Using paver stones for these structures is one of the best ways to ensure that they will be durable, comfortable, and long-lasting. We use high-quality materials in our work so that you get good value for money. Our team of paver installers will handle all types of the entryway and walkway installation jobs expertly. Skilled hardscape designers make sure that the patterns and designs they recommend are entirely in line with your requirements. They will also ensure that the new features complement your home or commercial establishment's architectural elements. Read More About Walkways/Entryways »


Pavers
When it comes to creating resilient, attractive, and long-lasting outdoor spaces, pavers are the best option. These products are available in various styles and designs. You can choose from interlocking pavers made of concrete or brick. There are different hues and colors for creating unique designs in your outdoor areas. If you want something more rustic and elegant, you can opt for natural stone paving. Our team is here to give you all the information that you need about these products and how they would fit in with the overall aesthetic of your residential or commercial outdoor areas. No matter your requirements, we are the hardscape professionals that can handle paver installation for you in line with industry standards. Read More About Pavers »


Retaining Walls
Whenever you plan a landscape, one of the most important aspects is to ensure that the grading is right and that the ground is stable. In certain areas, there is sloping land, making it difficult to build structures on it. However, you can excavate some of that area and support it with retaining walls. These structures help improve the landscape's stability, and you can install the outdoor features that you want. We offer high-quality retaining wall design and build solutions to commercial and residential clients. If you like, we can incorporate seating or planter elements in the walls. We customize these services, ensuring that the retaining wall designs and plans are perfect for your outdoor spaces and improve your property's stability and functionality. Read More About Retaining Walls »


Fire Pits
If you like creating a cozy and welcoming outdoor space, consider installing a fire pit. This fire feature is compact, can be installed in any area of your yard, patio or deck and looks fantastic. We customize our services; you can choose everything from the size of the fire pit to its styling, the materials used, and the plans and styling of the surrounding area. Since we are hardscape designers, we have the skills and creativity to design and install the best fire pits for your property. We use high-grade materials in the project and the latest installation techniques, and you will have a resilient and easy-to-maintain fire feature. Read More About Fire Pits »


Outdoor Kitchens
If you are looking to improve the functionality, aesthetics, and value of your yard space, consider getting an outdoor kitchen installed. We are the hardscape designers that can provide customized outdoor kitchen design and installation services. Our team works on everything, including the layout, planning countertops, the inclusion of various appliances, storage space and plumbing, fuel options, and more. We handle this job from start to end using the right quality materials and installation techniques. Our company can handle outdoor kitchen installations as part of a new landscape project or yard renovation. Read More About Outdoor Kitchens »


Paver Maintenance
While paver stones are extraordinarily resilient and last for many years, they also need some essential maintenance to keep them in good condition. We provide high-quality maintenance solutions to our clients. As part of these services, we treat the pavers, clean them, and offer efflorescence treatment, paver repairs, and pressure washing solutions. We use high-quality products in our work so that your paver stones stay in good condition and look great. Maintaining the hardscaping and concrete structures on your property is crucial if you want to ensure that all the elements remain in good condition and provide years of service without any trouble. Read More About Paver Maintenance »


Pressure Washing
We specialize in providing pressure washing services for patios, fences, sidewalks, and other outdoor hardscapes on your property. Our service is focused on increasing your property value. Some of the common applications our pressure washing service is required by our clients include prep fencing for paintwork, rinsing down garage floors, cold pressure washing home sidewalks, spraying down walkways, cleaning driveway stains, steps and stairs pressure washing, cleaning home decks, and patios, spraying off stubborn concrete algae, and cleaning block walls and masonry. Depending on your project, we will bring the right pressure washing equipment to your place. Our service will help save valuable time compared to handling the project yourself. Besides, you cannot achieve the same results as our professionals. Stubborn spots will require extra attention. Our experts will manually agitate with special cleaning products before washing to help loosen the grime and grease. We deliver results that are hard to match. Read More About Pressure Washing »

Whether you need a new patio for your residential property or a large-scale driveway and entryway installation for your commercial setting, we are here to help. We use the best quality materials in every job, ensuring that the installation is handled to industry standards.

We have the skills, expertise, and knowledge needed to tackle all types of big and small hardscaping jobs in line with industry standards. For more information about our services, feel free to call CLP Property Management at this number- 352-549-4981. You can also send us your requests and queries through this Online Form, and we will respond within a short time. We will have detailed discussions with you about your needs before offering suitable solutions.